What are the classifications of Dosing Mixing And Stirring Device?
11-08-2022
Classification of Dosing Mixing And Stirring Device:
There is no strict and clear standard for the classification of Dosing Mixing And Stirring Device, but the technical indicators and characteristics of different products determine their use and application conditions. Sewage treatment mixers can be roughly divided into two categories:
★ The first category is high-speed, small impeller products, which are more focused on mixing and stirring. Its characteristics are: high flow velocity, strong turbulence, large flow velocity gradient in the flow field, and small scope of action. This type of product is suitable for processing units with small tank space or certain requirements for GT value, mainly mixing and stirring. Such as mixing pools and reaction pools in physical and chemical treatment processes, selection pools and anaerobic pools in biochemical treatment systems.
★ The other type is the low-speed, large impeller, whose function is prominent in the hydraulic cycle. Its characteristics are: the distribution of the flow field is relatively uniform, the flow velocity is low and slow, and the scope of action is large. This type of product is suitable for treatment structures with no requirement for GT value and large pool space for the purpose of hydraulic circulation and maintaining flow rate.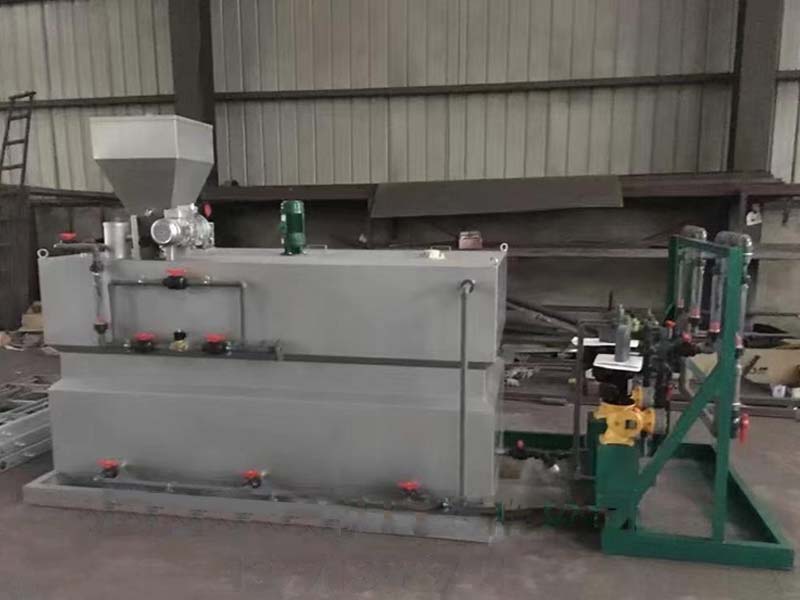 ▲ Yixing Fuxin Environmental Technology Co., Ltd. is a professional environmental protection enterprise specializing in general contracting of environmental protection engineering, water supply and drainage engineering, wastewater treatment engineering and operation management, and integrating engineering design, equipment manufacturing, installation and commissioning.
Our Automatic Dosing Device is an integrated device, fully automatic continuous dosing, to ensure accurate, timely, stable and reliable dosing and control of various pharmaceuticals
At the same time, Automatic Dosing Device has complete system protection measures to ensure stable and safe operation of the system.
Our products are suitable for various industries such as municipal sewage, tap water, industrial wastewater, food, chemical industry, machinery manufacturing, metal processing, petroleum, pollution, etc. Your consultation is welcome!